The Challenge:
Design and define electronics startup Kien's customer journey, 
from the customer's first touchpoint to opening the box. 
Focus on creative ways to convince consumers to 
buy Kien's physical and emotional product(s) online.
The Outcome:
A redesigned customer experience.
Our team focused on specific digital and physical touchpoints, prototyping creative solutions to allow customers to experience the brand and the products. This included an innovative subscription model, a peer-to-peer lending service allowing customers try a local owner's Kien product, and a new unboxing experience.


Kien is a consumer electronics startup with Bang & Olufsen roots. Their core product, a subwoofer and portable speakers combination, is an innovative flexible sound system. This allows users to enjoy music in stereo, multiroom, surround sound, or on the go setups.
Kien approached our team with the challenge of helping people buy Kien's relatively expensive products in an online environment where the customer is unable to physically experience it (they have no stores). They wanted to explore what customers wanted from an e-commerce experience with Kien. 
'What do Kien customers want from an online shopping experience?'

To address this question the team began a rigorous research period. This involved interviewing experts in relevant fields such as e-commerce and technology. We also carried out interviews with, and observations/surveys of, target users. This was in order to gain insights into users purchasing behaviour and online and entertainment habits. 
The team also carried out immersive research techniques, whereby we put ourselves in the shoes of the users. We ordered Kien products ourselves and went through the entire customer journey firsthand, from ordering online to receiving the products. 
We also carried out similar research with competitors, experiencing the services of best-in-class brands and companies, both online and in-store. We mapped these experiences, eventually producing a journey map which enabled us to understand some of the qualities of a great shopping experience. 


E

xperience in person
- Users had a need to try out expensive audio products such as Kien in person before buying online. How could we facilitate this?
B
rand ambassadors
- K
ien originated through a Kickstarter campaign, the backers were passionate and vocal Kien advocates. How could we leverage this?
F
lexibility
- u
sers loved the flexibility of Kien's products, for example the ability to listen to Kien speakers in multiple different setups including on-the-go. How could we extend the flexibility of Kien's products to their service and brand environment?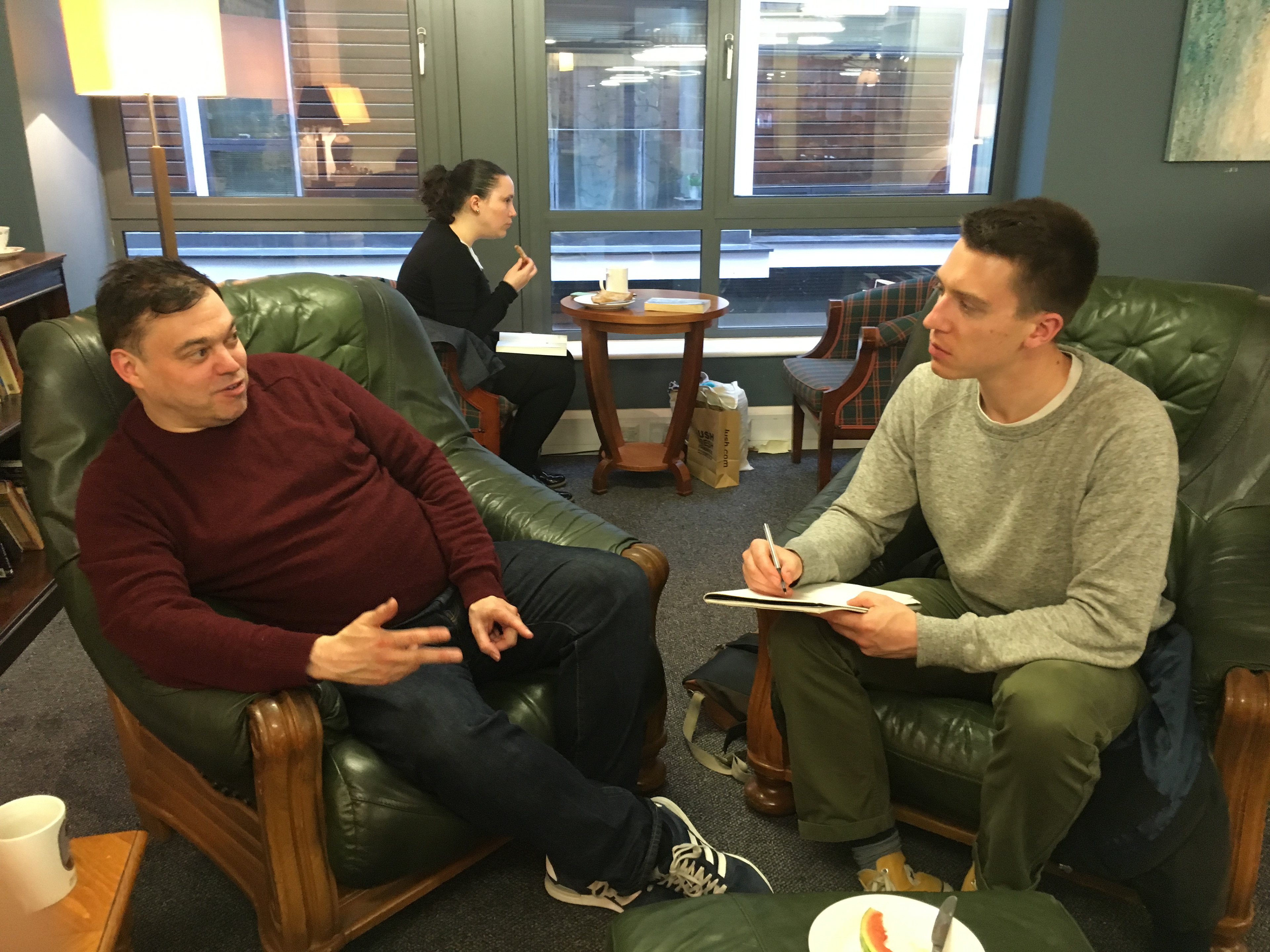 From our research we had uncovered that customers needed to experience Kien's products physically before purchasing online, and that Kien's Kickstarter backers and early customers were loud and proud supporters of the company's products. 
We combined these insights to create a new concept. Experience Kien. This would allow shoppers to request to 'try' a Kien product from a local owner. Enabling prospective customers to experience the product physically, but also receive a genuine, positive review from a current Kien owner and brand advocate. 
Based on the insight that users wanted flexibility in all aspects of the brand and service, not just the speakers, we created an idea for a subscription purchase model: 'Beyond Sound'. This would allow flexibility when purchasing Kien's products, and would allow customers to tailor their Kien experience to their lifestyle. 
From research we also found out that setting up Audio equipment was often a large pain point during a product purchase phase. So we also generated ideas for a new unboxing experience.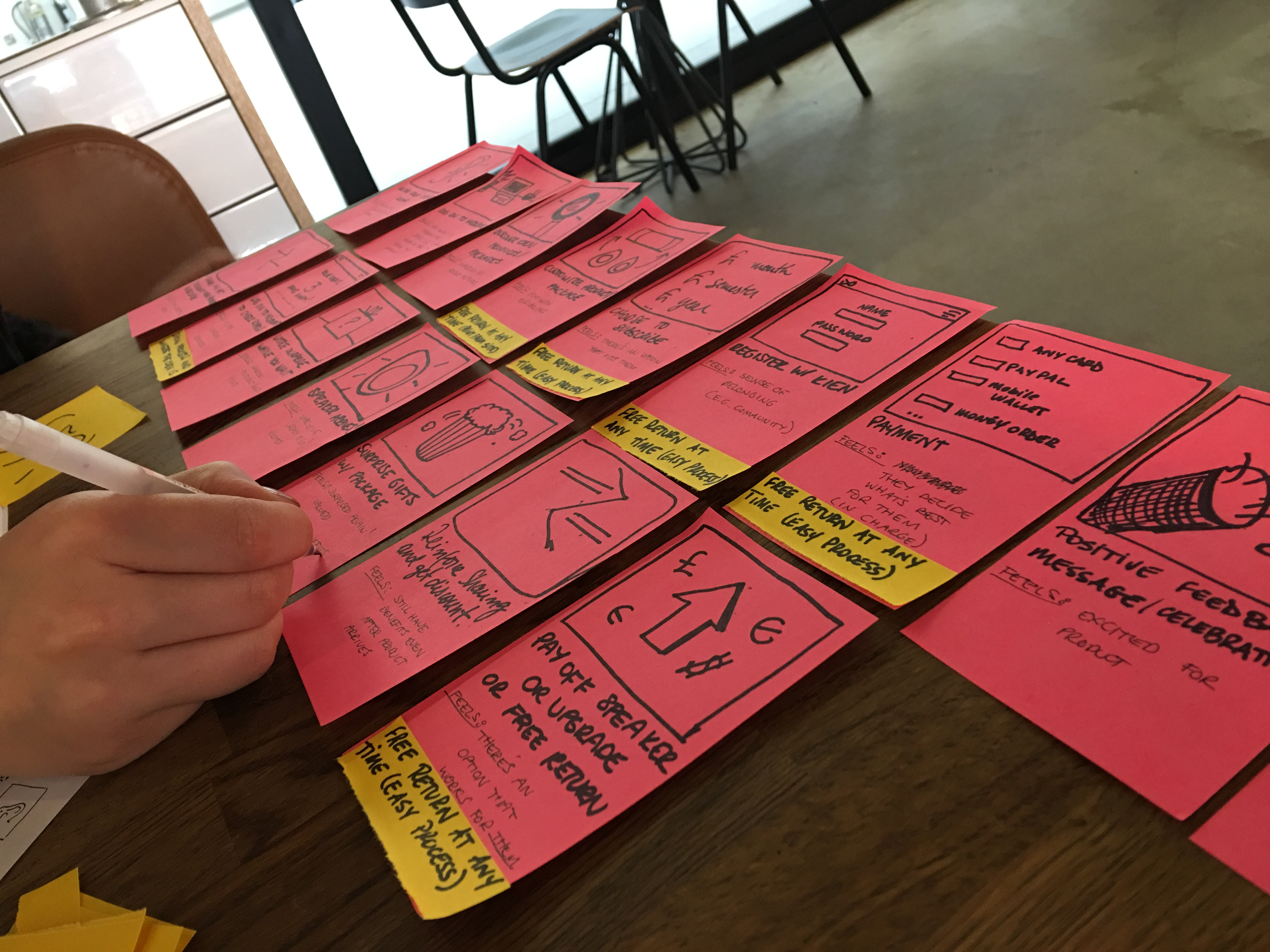 Our initial prototype was a very low fidelity paper prototype, it was a sketched user journey of a potential online checkout experience. This prototype was very basic and was intended to simply test the concept, and whether customers would be interested in trying a product in this particular way. After receiving positive feedback on the idea we gauged it was worth testing out with another round of prototyping. This was valuable to the team as it validated the initial concept.

The next step of testing involved getting the prototype from paper sketches to digital, in order to add more fluid interactions, and a slightly more realistic (although still very basic) user journey. We used POP app for this stage, we simply drew out each 'screen' of the user journey on paper, then using POP we took photos of each 'screen' and linked them together with interactive gestures to create a very crude and basic, yet functioning app. 
We ultimately had good feedback. This whole process of making the prototype and guerilla testing it took less than two hours, this was time well spent as it aligned the team on what the concept was, as well as how it could look, and behave. It was also valuable as it made the team realise that we were on the right track with our idea and could fully invest time into developing it further.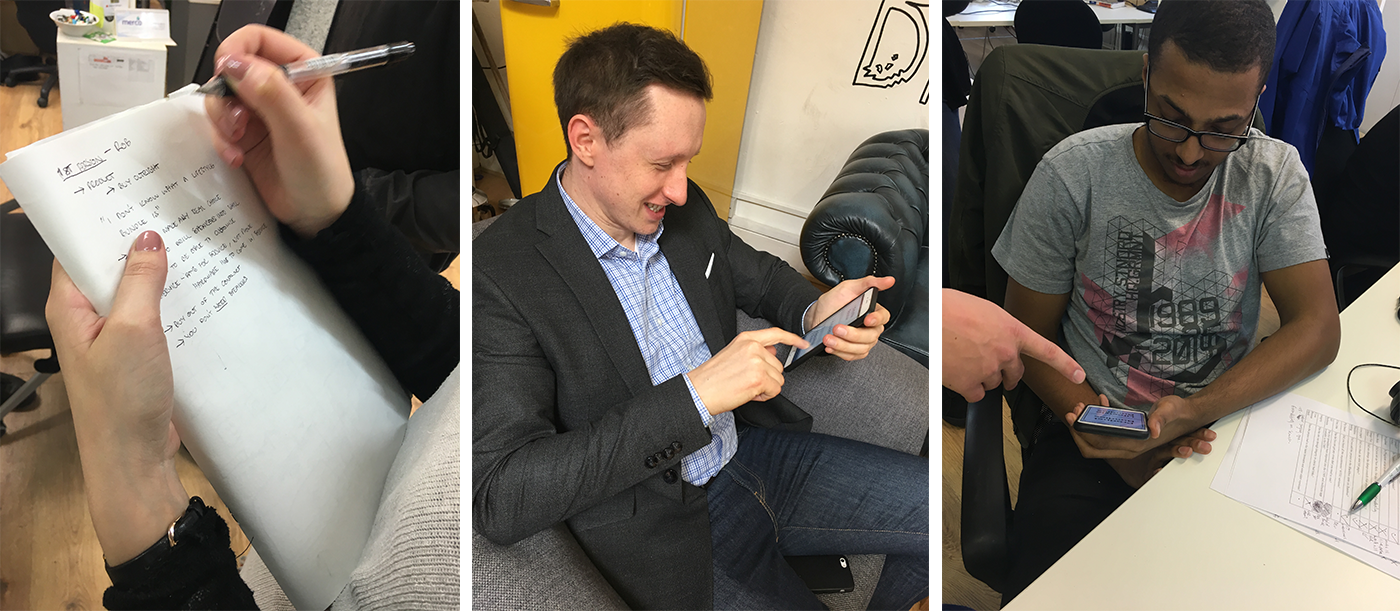 For the next round of prototyping we wanted to add a more complex level of interaction, and a more realistic feel to the experience, so we decided to use Invision. This time, we decided to move away from just testing the concept of the subscription model, and we added features that could potentially exist within an actual user journey. 
Again we received some positive feedback, but also some negative, so we iterated our design based on these suggestions. This was hugely useful as the differing feedback forced the team to refine features that ultimately formed a part of the final working prototype that we pitched to the client. This was built in proto.io as it allowed us to simulate the desired customer experience and to add realistic interactions and features. 
At this stage, we also prototyped the unboxing experience of the products themselves, as we wanted to retain a holistic view of the entire customer journey.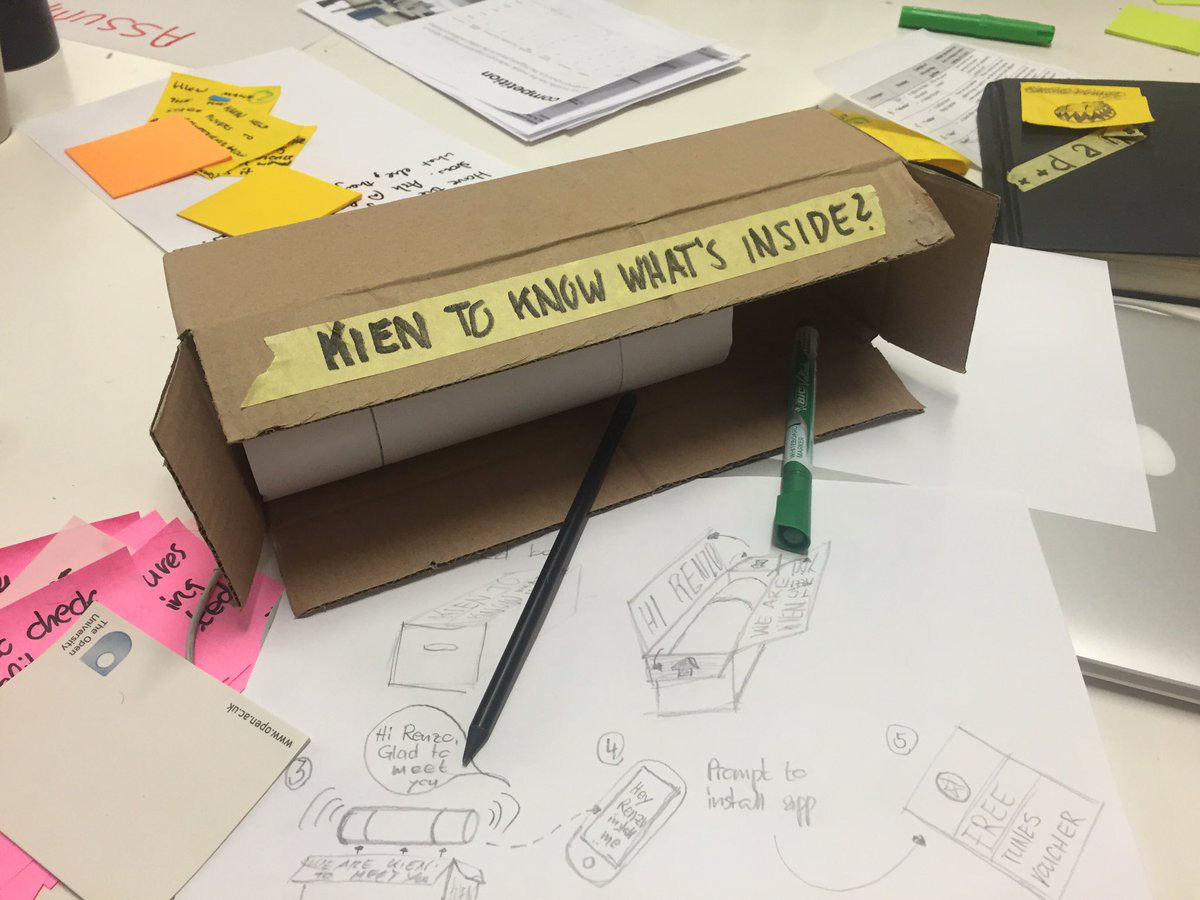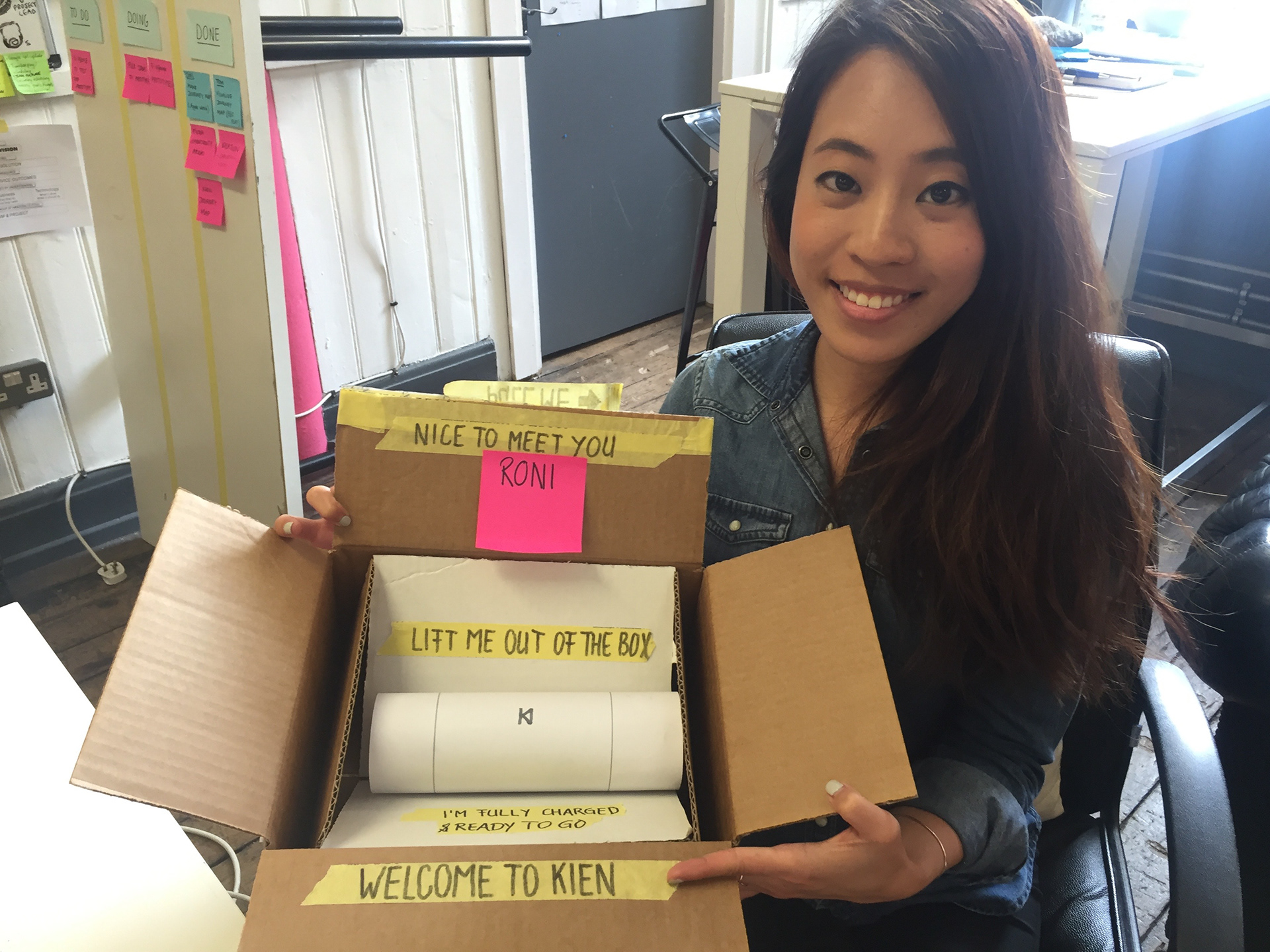 Proposal One: 'Beyond Sound'
Kien 'Beyond Sound' is an original business model whereby Kien's high-end audio speakers can be purchased via a subscription model. There is a variety of packages each providing different benefits, such as Spotify subscriptions or movie bundles. Beyond Sound facilitates users parties, movie nights, and other events that might include the use of their Kien. 
Subscribers can look forward to receiving a box each month, with a theme of their choosing, before the date they have chosen for their event. These boxes include gifts to enable the host and guests to have the best time possible. When the subscription term is up, the boxes stop, but the Kien speakers are the users to keep.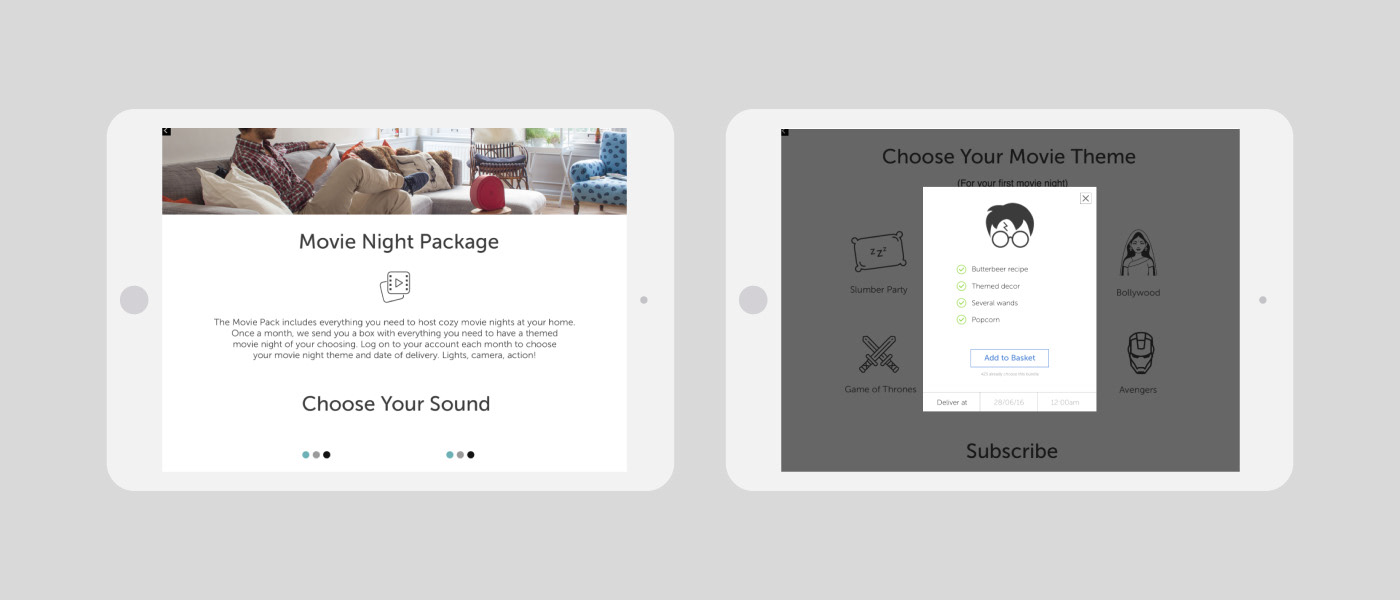 Kien 'Beyond Sound' facilitates users parties, movie nights, and other events that might include the use of their Kien

Proposal Two: 'Experience Kien'
'Experience Kien' is a way for customers to try Kien's products before they purchase, by borrowing a Kien speaker from a local owner. Users simply select which system they want to try out and the closest owners to them will show on a map. Kien owners that lend out their systems become brand ambassadors receiving numerous benefits such as discounts and early access purchases.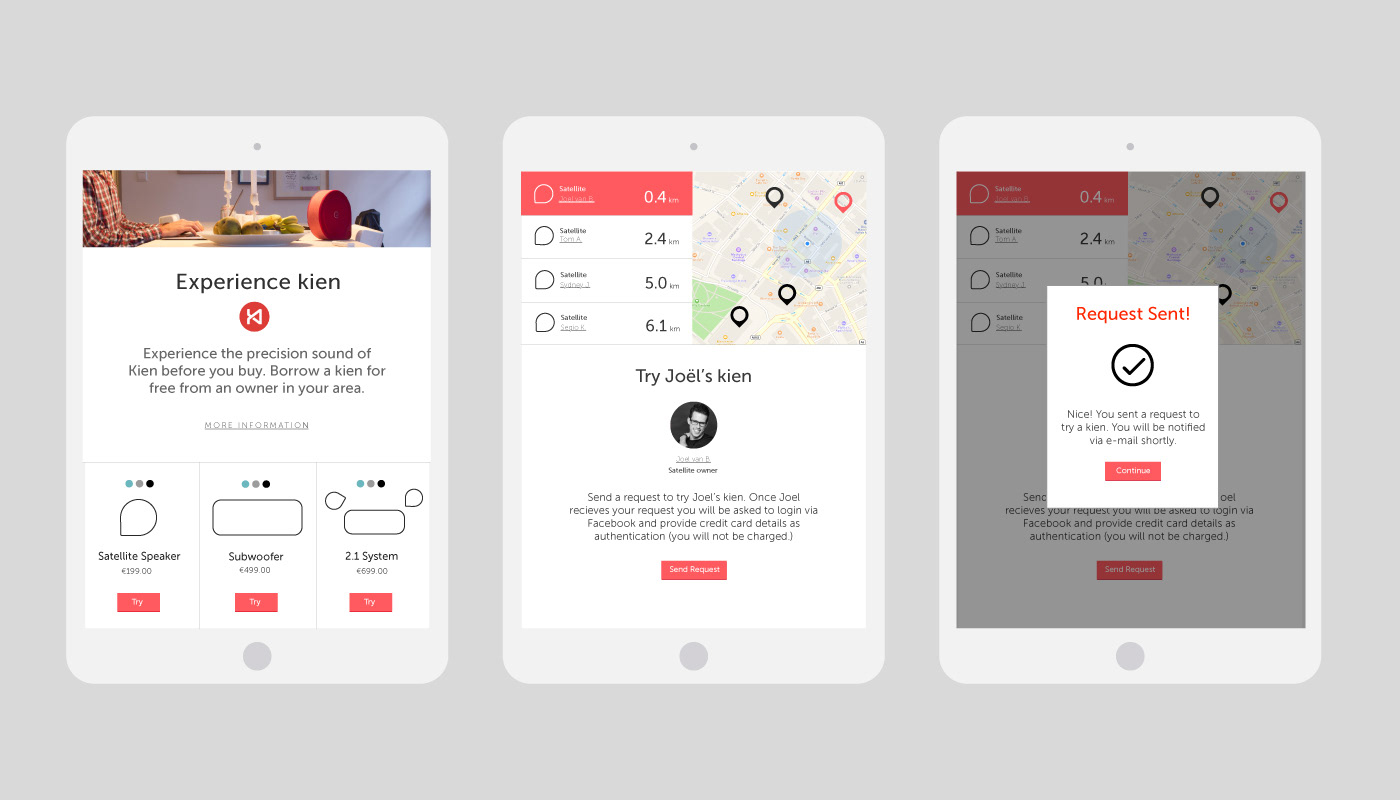 'Experience Kien' allows customers to try before they buy, through borrowing a Kien speaker from a local owner.

We got great feedback from the client regarding the different concepts, the realistic nature of the prototypes also allowed us to 'sell' the design to the client. Kien is now developing our subscription concept in order to build it into their business model. We therefore deemed this to be a successful project overall, with the iterative prototyping phases being invaluable.