The Challenge:
Design a solution to address unemployment in Nakivale, Uganda. A refugee camp with limited opportunity, unreliable internet access and challenging work restrictions….. but an abundance of skills.
The Outcome:
A digital service allowing refugees to earn money translating on their smartphones. Trialled in Nakivale, scaleable worldwide.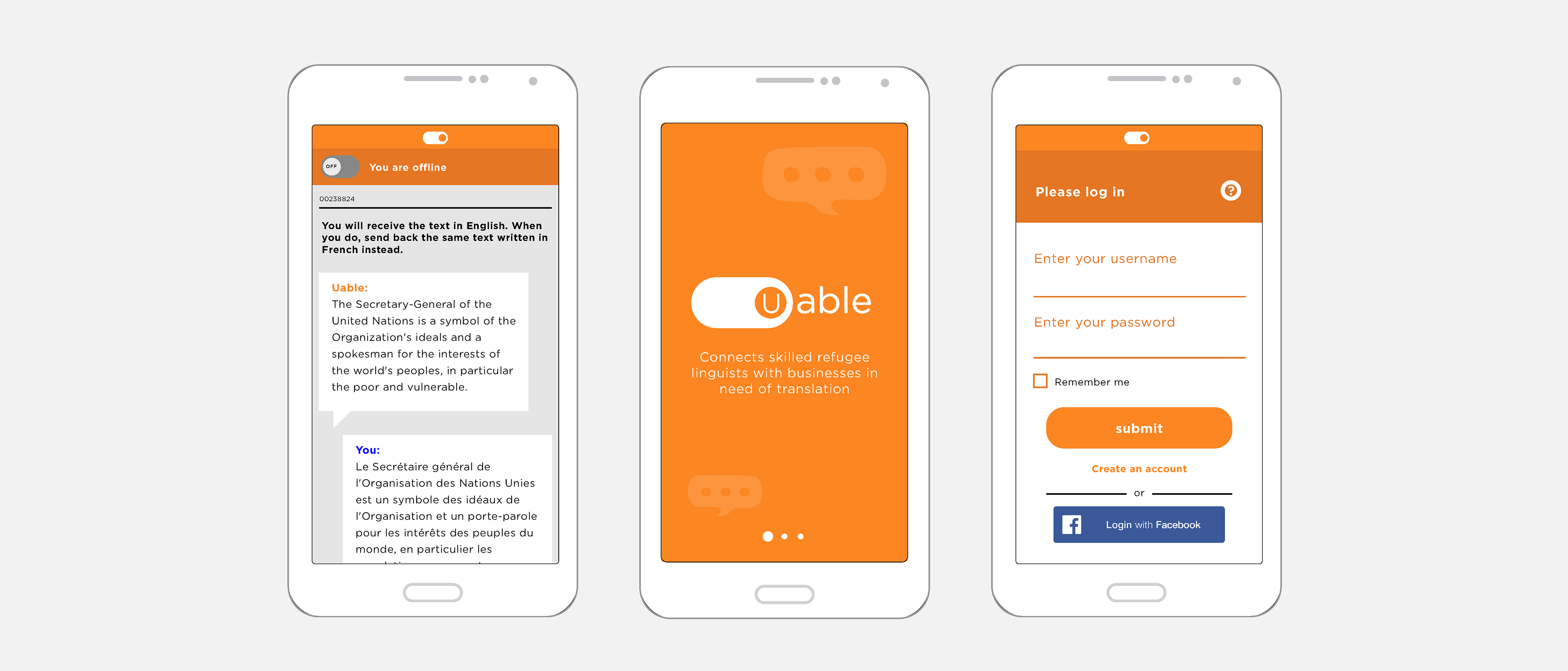 "My father was murdered and then my family was separated, I was lost in the middle of that night." These harrowing words come from Didier, 21, a refugee from the Democratic Republic of Congo. Didier fled his home with other Congolese victims of war in 2013 and came to Nakivale, a refugee settlement in south-west Uganda. 
Didier is one of over 60 million refugees and internally displaced people in the world today. Many of whom are living in camps just like Nakivale, camps stifled by a severe lack of opportunity. With this context in mind the United Nations approached our team asking a big question - "How can we enable refugees to use the internet as a tool to make a living?"
"How can we enable refugees to use the internet as a tool to make a living?"
To address this question, the team decided to focus on Nakivale camp in Uganda, as we knew the refugee crisis was such a complex problem, we had to begin by focusing on a specific area (Uganda also has some of the world's
most progressive refugee policies
). 
Nonetheless we were determined to keep an eye on the bigger picture, with a mind to designing something that could be truly scaleable, and ultimately provide opportunities to refugees worldwide. 
With this in mind we set about understanding the context of refugees in Nakivale, we began an intense research period involving observations, on-the-ground research, and interviews with refugees, experts and stakeholders.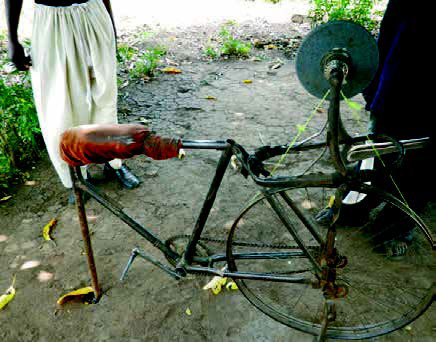 Refugees are talented linguists
- We found there was an abundance of different skills amongst refugee communities in Nakivale. One of the most widespread skills we discovered was language. Didier, for example, speaks English, French and Swahili fluently. 
Refugees are owners and users of mobile technology
- contrary to popular belief, many of the refugees we interviewed owned mobile devices, this was especially apparent amongst younger members of the community. They were also big users of communication apps such as Facebook and Whatsapp (this led us to prototype our first ideas over Facebook).
Refugees are entrepreneurs
- Didier taught himself video editing skills from an internet cafe in Nakivale, and had become a freelance videographer, earning money on the side for his family by producing videos for clients within the camp.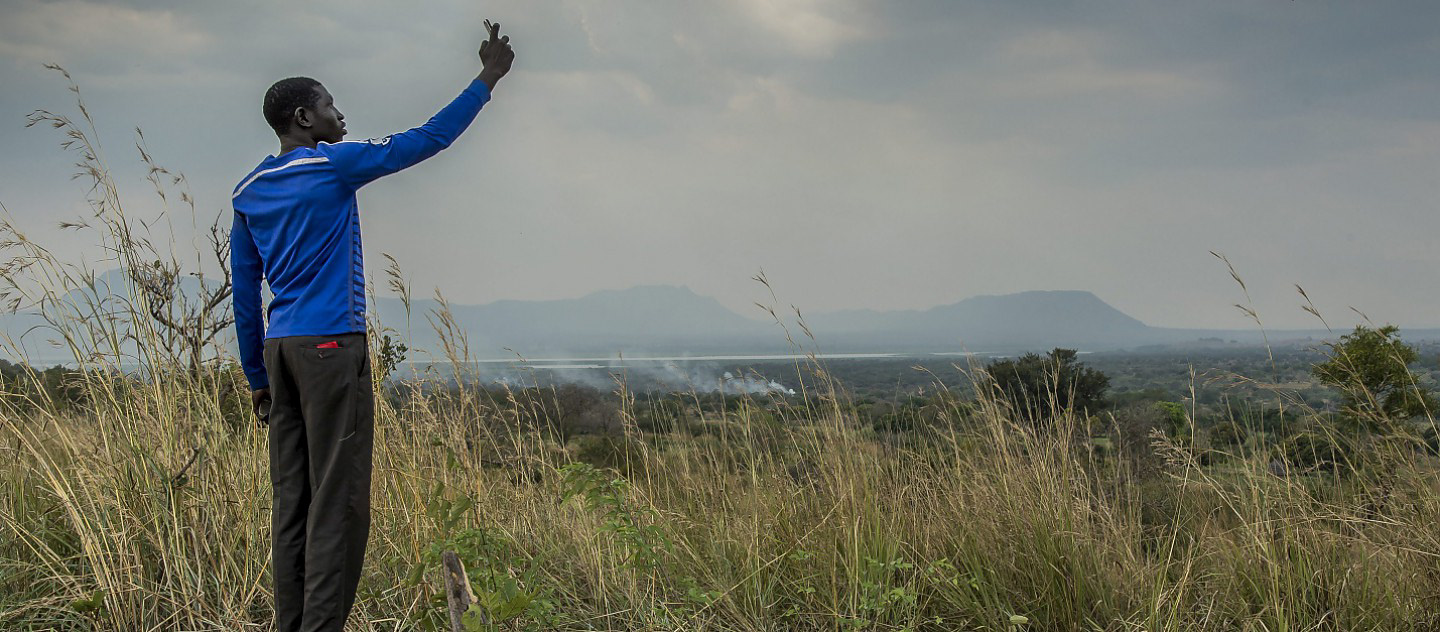 The Idea = Refugees as Translators 
From our research we had uncovered that many refugees could speak multiple languages to a high level, many used technology frequently, and that due to the spirit of entrepreneurship within the camp, Nakivale residents were used to upskilling in order to make money. 
These insights led us to come up with a simple idea during a week-long ideation and prototyping sprint. 
An app to allow refugees to earn money translating through their phone. The text to be translated is chunked up into small parts and sent to the refugee as messages within the app. This allows a refugee to work despite the limitations of a small smartphone screen.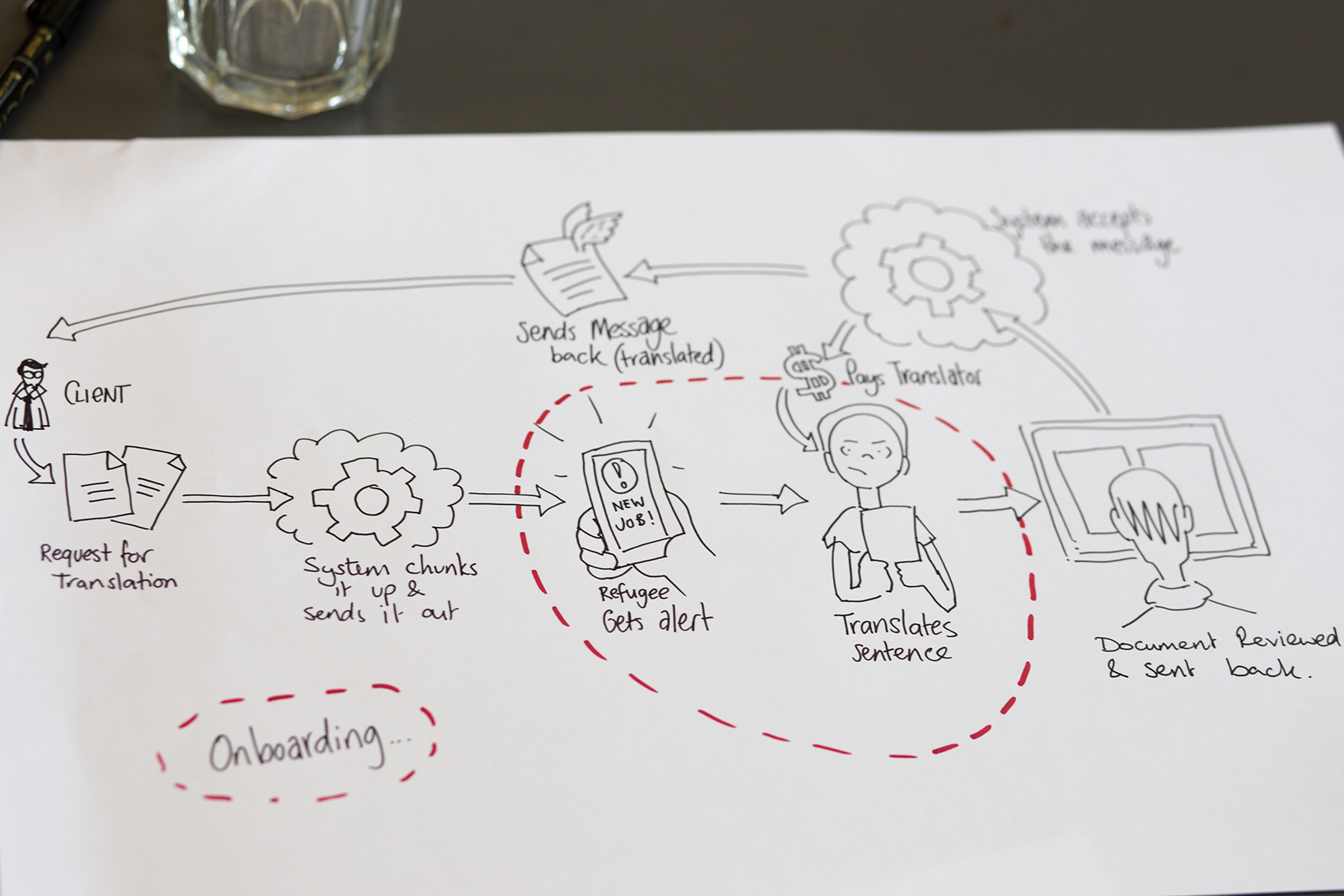 Testing the Concept with Refugees
We tested our concept and hypotheses through multiple rounds of prototyping and testing involving users in Nakivale. We began by simply testing the service through Facebook messenger, validating that refugees could translate real texts to professional quality and were interested in earning money as translators. 
We then built interactive app prototypes to test more specific features such as payment, also validating that refugees were willing to train and improve, and were competent at meeting deadlines. 

Based on results and feedback we added key features to the service - such as a training and education element to upskill refugees not yet ready to translate professionally, a review and feedback stage, and an online/offline button to keep users in control of their data usage.
This last feature was incredibly important as it allows refugees to download a job while online, before going offline to translate, saving data and money, and negating the unreliable internet access in Nakivale. The app caches the text and feeds it to the refugee translator in small parts.  
"One question, can it work offline?"

Testing the concept with businesses
Once we had tested the service with refugees, we also had to test the service with businesses, to see if there was a market for translations carried out by refugees. We developed a website and a video to explain our service, we then marketed ourselves to potential clients and eventually secured paying customers. 
We took a real translation text from the client, manually broke it down into smaller parts, and sent the parts to refugees for them to complete on their smartphones. We then had the refugees translation's reviewed by experts before sending it back to the client for final approval. We then facilitated payments for the client, expert and refugees. 
By testing the service for real this way, we validated that businesses were willing to pay refugees to translate their texts for them, providing it was of professional quality. We also found that businesses were interested in the social impact that our service could have. 
One of our clients Helen said - "One of the main reasons why I chose Uable was because of the chance to have a social impact". 


"We chose U-able because of the chance to have a social impact."
​​​​​​​

The team is now working in conjunction with the United Nations in order to develop an MVP of the Uable app for testing and beta release. Once this first phase in complete, the idea is to eventually move beyond just offering translation services, and to also connect businesses to refugees with a variety of digital skills - from video transcription to photo editing and data tagging. A true 'Linkedin for refugees'. 
We were invited to pitch the concept and prototype of Uable to the United Nations Headquarters in Geneva, in front of stakeholders and senior staff of Intracen (The UN's trade agency) and UNHCR (refugee agency). 
Senior strategy advisor for Intracen, Pablo Lo Moro, said of our project - "The team went above and beyond what was expected, everyone at Intracen was delighted with the outcome." The United Nations is now securing initial funding to develop Uable.